Wifi analytics
Get key metrics on your customers´ behavior with Wifi analytics
You will optimize your business!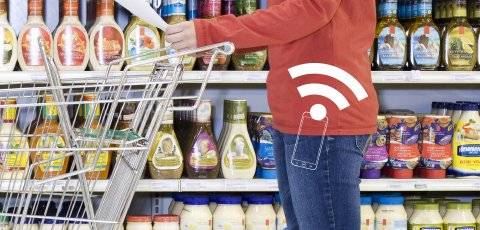 Thanks to Wifi analytics it is possible to know how customers interact at the point of sale and to understand the behaviour of your customers. It is a technology that has a great potential to boost sales and generate loyalty to a brand. Thanks to Wifi analytics you will know your capture rate (visits / passers-by), the average time spent in your store, your loyalty rate (repeat visits vs new visits), etc.
Wifi analytics features
Know how customers interact at the point of sale and understand their behaviour
Visits
Measure the number of visits received.
Capture rate
Discover your capture rate (passers-by VS visits).
Places
With Places tool, compare the locations´ performance among each other.
Passers-by
Know the number of passers-by.
Compare
Compare the number of visits by dates and by locations and determine the campaigns´ effectiveness, shop windows, promotions, etc.
Engagement
How much time do customers spend inside the store.
Loyalty rate
Find out how many visits are new and how many repeat.
Visits duration
Discover how many of your visits are long, very long, short or very short.
Generate a more faithful client. Increase they loyalty knowing the return rate (how many are new and how many repeat).
Maximize your point of sale profitability. Improve your conversion rate and your business profitability and effectiveness. With Flame Shopper funnel, measure all customer journey micro conversions, since a passer-by becomes a visitor and the visitor becomes a customer.
Improve engagement towards your brand knowing how much time your customers spend at the store.
Validate your management with objective data and your action plans thanks to Flame's insights. Convert numbers into valuable information for your business.
Measure the capture ratio and find out how your window and your location are performing.
Get a better store experience. Find out what your clients like and offer them what they need at all times.
Do you want to see Flame in action?