Easiest to do business with, High Performer and High Performer for small business. These are the three badges that Flame Analytics has just obtained in the recently published Summer Reports of the G2 platform that reward the best technological solutions in different fields.
G2 Reports help users discover the best and most appropriate solutions to solve their business problems. These reports are very useful to obtain information about software and services, to compare tools and technologies and, in short, to find the best option for each one. G2 is the perfect platform to identify the right tools for any business.
On this occasion, Flame Analytics has been included in:
Grid® Report – Grid® Report for Email Marketing | Spring 2022
Regional Grid® Report – United Kingdom Regional Grid® Report for Email Marketing | Summer 2022 AND Latin America Regional Grid® Report for Email Marketing | Spring 2022
Relationship Index – Relationship Index for Email Marketing | Spring 2022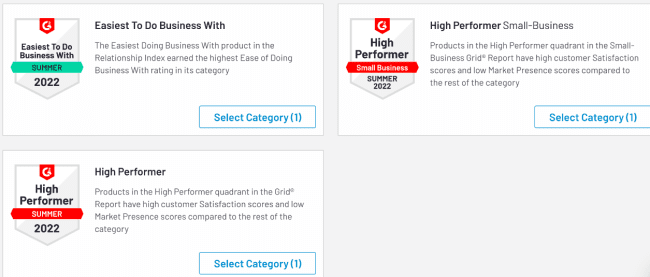 In G2 Flame Analytics has collected 32 positive reviews from customers and partners so far. These are some of them:
A tool that adapts to your challenges and makes it easier for you to make decisions by collecting valuable information, totally oriented to your project. It facilitates a clear vision of the evolution as well as of the fundamental kpi's so as not to get lost in infinite analyses.
Highly recommended to analyze the necessary ratios for your Retail business. It allows you to access from different accounts so that each user can see the information they need. You can create custom dashboards without the need for technical support, which makes it very agile and fast for your business.
A powerful tool for collecting and processing information, but simple when it comes to presenting valuable information and KPIs, designed to facilitate decision-making.
It is easy to implement and it is a very modular tool which is a great advantage. Flame gives us a lot of transcendental data about what is happening in our physical space (hotel, museum, store, etc.). In this way we can make decisions based on objective data.
https://flameanalytics.com/wp-content/uploads/2022/07/G2-Banner-Inglés-06-scaled.jpg
2429
2560
Flame analytics
/wp-content/uploads/2022/01/Flame-logo-1.png
Flame analytics
2022-07-08 01:51:00
2022-07-07 13:10:27
Flame Analytics has won THREE badges in the G2 Summer Reports