P&S Intelligence has done a research on "Wi-Fi Analytics Market" and they have identified that 'FLAME ANALYTICS S.L.' is a key player in this market, and that plays an important role in our organization for its development and growth.
Their analysts recently completed a research study titled "Wi-Fi Analytics Market- Global Industry Analysis and Growth Forecast to 2030". The research includes all the latest market information, including impact analysis of COVID-19 on this Market.
Valued at $5,210.0 million in 2019, the global Wi-Fi analytics market size is projected to witness a CAGR of 24.2% during the forecast period (2020–2030). The growing penetration of smartphones, surging public Wi-Fi deployment rate, and proliferation of the big data technology are some of the key factors driving the growth of the Wi-Fi analytics industry.
Wi-Fi analytics involves the use of a Wi-Fi network in order to collect data from devices that are equipped with the Wi-Fi technology, such as smartphones and laptops. The data collected includes comprehensive information on the device behavior and trends, both, physically within the space served by the Wi-Fi network, as well as the activity performed via the Wi-Fi internet connection.
The growth of the Wi-Fi analytics market will be hampered in 2020, owing to the global lockdown scenario due to coronavirus disease (COVID-19). Several factors, primarily the closure of shopping malls, restaurants, sports centers, hotels, and other public areas, will restrict the market growth and reduce the demand for Wi-Fi analytics solutions across the globe. However, the industry is projected to experience a revival in its growth in the coming years, due to the rising need of organizations to increase their revenue and counter the damages they suffered due to the COVID-19 crisis. Furthermore, the integration of advanced technologies, such as artificial intelligence (AI) and internet of things (IoT), will further boost the Wi-Fi analytics market in the coming years.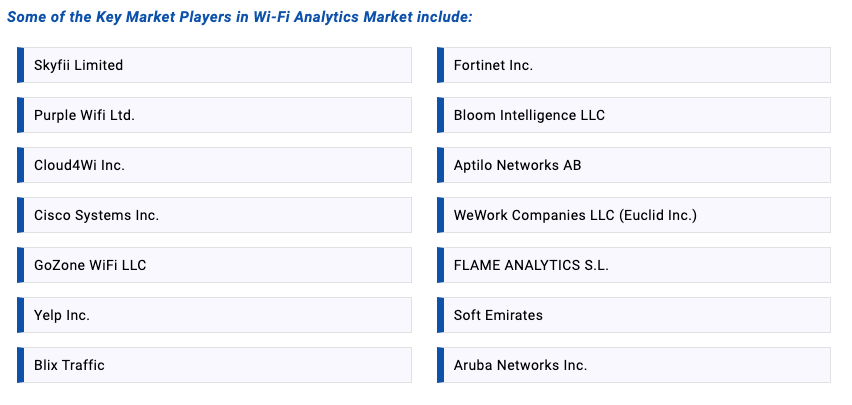 About P&S Intelligence: They offer a multi-dimensional analytical landscape of diverse markets, through business intelligence consulting services and comprehensive reports. To know more about them, kindly visit: https://www.psmarketresearch.com/ .
https://flameanalytics.com/wp-content/uploads/2020/07/NOTICIAS-CORPORATIVAS_-PREMIOS.jpg
1080
1080
Flame analytics
/wp-content/uploads/2022/01/Flame-logo-1.png
Flame analytics
2020-07-27 02:58:16
2020-08-10 08:47:48
Flame analytics, a key player in Wi-Fi Analytics Market